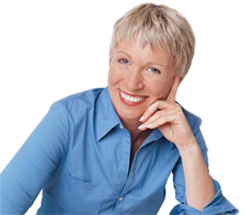 Barbara Corcoran, star of Shark Tank
No matter how much you believe in yourself and the value you bring to your work, you're going to have moments when you temporarily lose your spark. You're human, after all, and it's impossible to sustain consistently high levels of enthusiasm 24/7.
So when you do find yourself in a bad place, how do you get out of it?
I recently listened to an interview where some sage advice was shared by
Barbara Corcoran,
star of the TV show,
Shark Tank,
and a mega-successful entrepreneur herself.
First, recognize that
a slump is a period of feeling sorry for yourself
. You probably feel badly because you haven't come as far as you wanted to be at this point. Either you're doing the wrong things and not getting results, or you're doing things you don't enjoy doing. It's often both.
Then
block out a day in a location away from your office or home
, where you're isolated from people and distractions. It doesn't have to be an exotic place. The local library works well. Your goal is to make two lists.
If you own a business or are in sales, on List One, include all the business you've gotten to date. Then next to each, record where it came from. Barbara discovered that most of her business came from similar sources, and she compared that to where she'd actually been focusing her time and energy. The two rarely matched. Based on what she learned from the comparison, she answered these questions:
What three new things can I do to get MORE of that kind of business? What is my sweet spot?
For List Two, take a sheet of paper and draw a line down the middle. At the top of the left column, write:
What I LOVE
and on the right:
What I HATE
. On the left, record all the activities and tasks you've been doing the past few weeks that you've loved doing.
For Barbara, that included advertising, marketing and talking with reporters. It turns out the left side never changed, but there were always new things on the right side that she hated. She detested dealing with bankers and handling minutiae like a messy desk. When she returned to her office, she immediately delegated everything on the Hate side and filled her schedule with more of the activities she loved and did well. This action re-energized her.
Complete this exercise yourself, and you'll quickly discover why your passion wanes at times. Fuel it by focusing most of your time on the activities that bring you the greatest joy and the best results. Wherever possible, find of way to delegate, outsource or simply stop doing the tasks that you don't enjoy or that don't produce the outcomes you need.
"Look for a long time at what pleases you, and a longer time at what pains you." – Sidonie-Gabrielle Colette, French novelist (1873-1954)