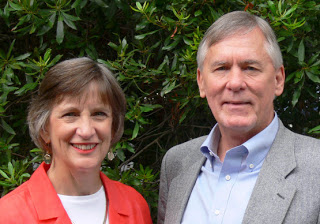 Meredith with Denny Coates, her business partner since 1990
"A man can succeed at almost anything for which he has unlimited enthusiasm."
- Charles M. Schwab, American business leader (1862-1939)
When I met my business partner,
Denny Coates
, for the first time in 1990, it was for a breakfast meeting. That initial conversation lasted more than three hours and almost ran into the lunch hour. I was struck by his passion about a new personality test he'd created based on two areas of brain science – cognitive psychology and neuroscience. I'd never met anyone who knew so much about the brain, and his enthusiasm for the topic was contagious.
At that point he'd already consumed hundreds of books on the subject, and he was constantly on the look-out for the latest research. More than twenty years later, Denny still has the same insatiable quest to learn more about what really goes on in the brain.
His deep understanding of these processes formed the foundation for the creation of our software products –
20/20 Insight
, a customizable assessment and development platform, and
ProStar Coach
, an online virtual coaching system for personal development.
Today his writing is focused on helping teens and parents of teens understand the crucial development that happens in the brain during the ages of 12-22. His unwavering dedication to learn about the brain has simply become more specialized over the years. It's a testament to what people can accomplish when they're driven by an intense interest, coupled with a desire to change lives.
Think about your interests in your business life and personal life. Would you describe them as topics you're
passionate
about? Many people never experience that depth of emotion. But if you don't feel boundless enthusiasm and obsessive motivation to excel in a particular area, interest alone won't carry you far. Even if you do have that kind of intensity initially, it's difficult to sustain over time.
That's because the most worthwhile things in life are the hardest to achieve. They typically involve major challenges. Only a highly committed individual would endure the hard work, delays and discouragements involved in getting to the final destination.
So how do you discover this passion, if you haven't felt it before?
Take time to be quiet and listen to your heart. Think about what energizes you. What kinds of work or play cause you to lose track of time? What would you be doing if you got to engage in these activities on a regular basis?
You may have to listen for a while, but eventually you'll discover what gives meaning and purpose to your life, what matters most to you. Then you can do what most people never do—commit to getting heavily involved in what you're passionately interested in.
When you follow your heart, these words from the architect Buckminster Fuller will resonate with you:
"The minute you choose to do what you really want to do, it's a different kind of life."