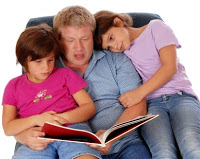 "One of the greatest gifts adults can give--to their offspring and to their society--is to read to children." - Carl Sagan
I began my first career out of college as an elementary school teacher, and my masters degree focused on how children learn to read. Yet I didn't fully appreciate the importance of parents reading to their children until I was a parent myself and started reading to my daughter Alison when she was very young.
We had an evening ritual of snuggling up together in her bed to read her favorite books before she went to sleep. But we also read together in other places at different times of the day. Her favorite activity when we took long trips in the car was to go through the stack of books we'd packed. Thankfully, there were no portable DVD players, cell phones and other electronic devices back then to compete for her attention.
If you're a parent or grandparent, carving out time each day to read to your children is one of the best investments you can make in their future academic success. And you'll be amazed at the impact this sacred activity can have on your relationship as they get older. Here's why.
#1. You form a bond that lasts for a lifetime. The physical closeness and focused attention send a powerful message that you deeply care about your child. Her brain will form a permanent, positive association, connecting that time with you and the activity of reading.

#2. You instill a love for books and reading. One of the greatest gifts you can ever give your children is to inspire them to become lifelong learners.

#3. You'll help you child develop language skills and a terrific vocabulary, helping her enter school prepared and confident.

#4. It's fun! I can still hear Alison's delightful giggles when I would use different voices and accents for the various characters in the books we read.

I'm very concerned about the future of families where each person is hooked up to separate electronic devices instead of connecting with each other.
To prevent this from happening in your home, I encourage you to make reading with your children a daily priority.
As Walt Disney once said, "There is more treasure in books than in all the pirates' loot on Treasure Island. And best of all, you can enjoy these riches every day of your life."

I'd love to know what you've experienced in your own family - as a child or as a parent - related to reading together. Please share your comments!