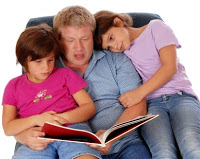 "One of the greatest gifts adults can give--to their offspring and to their society--is to read to children." - Carl Sagan
I began my first career out of college as an elementary school teacher, and my masters degree focused on how children learn to read. Yet I didn't fully appreciate the importance of parents reading to their children until I was a parent myself and started reading to my daughter Alison when she was very young.
We had an evening ritual of snuggling up together in her bed to read her favorite books before she went to sleep. But we also read together in other places at different times of the day. Her favorite activity when we took long trips in the car was to go through the stack of books we'd packed. Thankfully, there were no portable DVD players, cell phones and other electronic devices back then to compete for her attention.
If you're a parent or grandparent, carving out time each day to read to your children is one of the best investments you can make in their future academic success. And you'll be amazed at the impact this sacred activity can have on your relationship as they get older. Here's why.