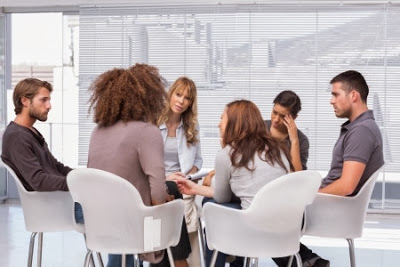 Several years ago I was supervising a team of ten people, and most of them got along well.
But over time, I picked up serious rumblings from four of them about "Rita," one of the team members.
They had legitimate complaints about her performance related to lack of cooperation and sharing of information. They found her difficult to approach and talk to.
I contemplated talking with Rita myself, but that violated one of my deeply-held beliefs:
When you give constructive feedback, it should be from first-hand observation.
I had not seen these behaviors myself so I wasn't comfortable addressing them with her.
Another option was to insist each person talk with Rita individually. I wasn't sure how effective that would be, since emotions were running high by that point. And these four individuals did not possess expert feedback skills.
So I decided to do something radical.
I set up a group intervention.
Interventions are sometimes necessary when someone is in denial about an aspect of their behavior, and the opinion of just one person doesn't get their attention or carry much weight.
An intervention brings together a group of people who care about that person's future and are willing to speak the truth together. This has been done with positive impact for decades with alcoholics and drug addicts.
A skilled facilitator guides each participant in advance to write out the specific behaviors that have created a problem, including these components of constructive feedback:
1 – Describe the specific behavior.
2 – Share your reaction and feelings.
3 – Explain the impact on you or others.
4 – State what you need from this person.
A sample statement would be something like this:
When you [negative behavior], I feel [feeling] because [negative impact]. What I'd like you to do instead is [desired behavior].
I figured that I could follow the same process to get Rita's attention and influence her future performance. She was a valued employee and I didn't want to lose her. I also wanted to teach the others how to give appropriate feedback.
First, I met with the four individuals as a group and explained what we were going to do. I gave them the four components to include in their feedback and required them to write down what they were going to say.
I then reviewed what they'd written and coached them on ways to word their message to be factual and non-judgmental.
Boy, were they nervous. They'd never done anything like this before, and they weren't sure how Rita would react. They were concerned she would feel we were ganging up on her.
I tried to reassure them that the outcome would be positive.
On the morning of the intervention, I met with Rita a few minutes before we were to gather. I explained to her that we were about to have a meeting that was just for her. I assured her that I cared a lot about her as a person and as an employee. I explained that some of her team members had concerns about her behavior and wanted to share those with her. And I said I'd be facilitating the process to make sure everything that was said would be appropriate.
I entered the room with Rita, and the others were already seated in chairs that I had arranged in a circle. Rita slid into one of the empty chairs, and I sat across from her, with the others on either side of us. I wanted to be able to see everyone, but especially Rita.
I opened by stating that we had come together because each person in the room had something to say to Rita, and they wanted to do it in a way that would be helpful to her and to them.
The team members took turns sharing their feedback, and Rita was given an opportunity to respond after each one. What ensued was a dialogue that clarified the real issues and led to agreements for future action.
At one point, another team member, "Kate" placed her notes beneath her chair and sighed. She realized that she had contributed to some of the problems. The blame didn't lie exclusively with Rita. Kate shared responsibility for the problem. She actually apologized to Rita and everyone else for the part she had played to worsen the situation.
The entire group came together in ways I could not have predicted.
After that day, they became less afraid to address a minor issue head-on, before it grew into a big problem. They even encouraged each other to speak up in meetings.
Too often constructive feedback takes the form of criticism and blame, and it's filled with emotion. That's because we wait too long to speak up.
Follow this simple 4-step model the next time you need to address an issue with someone. You'll find that you stay calmer and the other person will likely react less defensively.