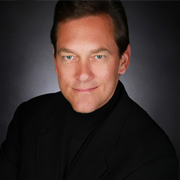 Chet Holmes
I first heard the phrase "pigheaded discipline and determination" when I listened to
Chet Holmes
being interviewed in 2010. I could tell he was someone worth paying attention to as his story unfolded.
Early in his career, he doubled sales three years in a row for a publication owned by Charlie Munger (Warren Buffett's business partner). But that was after four months of having NO response from the marketing initiatives he'd implemented. Here was a man who never gave up. He spoke with such conviction, confidence and knowledge that I was sorry when the interview concluded.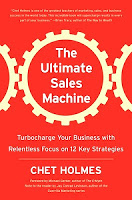 I immediately grabbed a copy of his best-selling book,
The Ultimate Sales Machine
, and invested in the audio version as well so I could absorb the information during my commute. It continues to be one of my favorite business books, and I keep it on my desk as a daily reference.
Chet's key principles are closely aligned with our own approach to learning and mastery of skills. No matter what field you work in, you can apply his words to achieve greater results in your life.
Three of my favorites…
"Any area of achievement in your life required you to

stick with the basics until you became great

…Becoming a master of karate was not about learning 4,000 moves but about doing just a handful of moves 4,000 times."
Are you busy trying to implement every new idea you hear? The key to success is to recognize that you have to become really good at only a small number of things, not everything. In fact, when you constantly flit from one activity to another, you're not investing enough time in practicing and repeating the few that will make the biggest difference and get you the best results.
What are the "basics" for you, and are you working on them?
"

No one gets good at anything without repetition.

Karate requires tremendous discipline. You're just repeating moves over and over. This is true of tennis, golf, or any other sport. Practice, practice, practice and then, when you've begun to master your moves so that you know what to do automatically, it gets exciting. But pigheaded discipline comes first."
Achieving mastery of any skill requires you to create strong neural connections in your brain, and that only happens with lots of repetition and practice. And
that
requires a real commitment to follow through – to do what needs to be done, every time, no excuses.
What have you committed to master? Are you putting in the necessary practice every day to make sure you become excellent?
"The missing ingredient for nearly all of the 1,000-plus clients I have worked with directly to improve their businesses is pigheaded discipline and determination. We all get good ideas at seminars and from books, radio talk shows and business-building gurus. The problem is that most companies do not know how to identify and adapt the best ideas to their businesses. Implementation, not ideas, is the key to real success."
It's not enough to know WHAT to do. You have to
take action
. That's what separates the wanna-be's from the real achievers. Nothing happens until you translate a good idea into observable behavior.
What idea is still in your head that you want to turn into a reality?
If you're ready to learn business strategies from a master, make time to
listen to this audio interview
that
JW Najarian
conducted with
Chet Holmes
for
On Purpose Magazine
. Then get Chet's book, study it and
implement
the ideas.