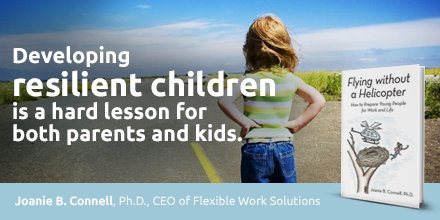 Recently I was having a conversation about parenting with three people I love the most – my husband, daughter and son-in-law. This topic has immediate relevance for them since they had their first child in October.
Some interesting questions popped up about Alison's growing up years…
What did Lee and I do to instill in her a sense of responsibility?
How did we prevent her from developing a sense of entitlement as an only child?
What did we teach her about money management so she would not expect us to pay for everything she wanted?
I had just finished reading
Flying without a Helicopter
by
Joanie Connell, Ph.D
., and was sharing some of the stories from her book.
Stories that did not paint millennials in a positive light.
Stories that surprised me because Alison falls into the millennials age group (born early 1980s to early 2000s) yet doesn't display the characteristics described by Joanie.
Many in this generation grow up protected and sheltered, entering the workforce:
with unrealistic expectations about opportunities
unwilling or unable to accept constructive feedback about their work
afraid to take risks
with an expectation or need to be praised daily or even more often
without the communication skills necessary to work in teams
Joanie explains that these attitudes and behaviors are the result of "helicopter parents" who tend to hover over their children, trying to shield them from negative experiences, setbacks or failures, and make decisions on their behalf. The result is a generation of young people who have not developed the skills required for success in life and on the job.
Joanie Connell
achieves something unique in this book. She's able to talk to the parents and managers as well as the millennials themselves. Her message is important. She states that she wrote the book because she's concerned that the leaders of tomorrow will not be prepared to lead effectively.
Her book shows the way for all those involved to help young people get ready for "
REAL
" Life:
RESILIENT
– to stay engaged and maintain a positive attitude no matt what gets in your way
EMPOWERED
– to be independent and confident, able to get things done
AUTHENTIC
– to be aware of yourself, know your strengths and your imperfections, and to communicate genuinely
LIMBER
– to be flexible in mind and body, to be creative, resourceful and able to switch gears quickly as the situation requires
She's organized the book into 3 sections: Problems, Solutions and Exercises. After you read the first section, you recognize with utter clarity the issues involved with this group of young people.
The rest of the book explains exactly what young workers can do to develop themselves in the critical areas…and what their parents and bosses can do to foster this growth.
I valued Connell's truth-teller approach. Her writing style is simple, clear and conversational. Her stories and examples are powerful and memorable, drawn from her personal experience as a parent and as a consultant to a wide variety of businesses.
If you're a parent, manager, teacher or young adult new to the workplace, grab a copy of this book and apply the recommendations. We need to ensure that our next generation of leaders have the skills they need to take risks, make good decisions and communicate effectively.