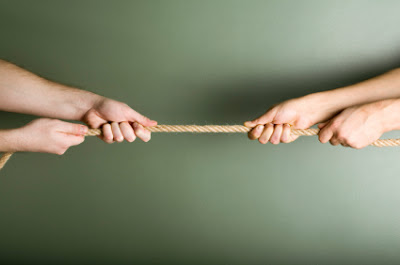 What do you do when what
you
want is at odds with what another person wants?
No one is exactly like you, so it's inevitable that others will disagree with you at times. Conflict is actually a
natural
part of working with or living with someone else.
Next time you find yourself in conflict with someone at work or home, implement this five-step process to find a win-win solution.
Step 1: LISTEN TO WHAT THE OTHER PERSON WANTS
Sometimes the person you're in conflict with will see you as an opponent. He may not even want to talk to you. So you may need to encourage him to open up by saying something like,
"I really would like to resolve this, but I'm not sure what you want. Could you tell me more about that?"
Your instinct might be to argue or defend your own position, but you have to resist that impulse. At this stage, all you do is
listen
. Your goal is to discover WHAT the person really wants. As you begin to understand this, you may discover it's not what you thought, that in fact you're not actually opposed to it.
Step 2 – ASK ABOUT THE OTHER PERSON'S NEED
Once you know what the person wants, try to understand WHY. Ask,
"Why do you want this? What goal or need will this help you achieve?"
And then you continue to pay attention, listen to understand and check what you hear.
Again, you have to resist the urge to argue or defend your position. Your goal is to find out what NEED is driving the person to push for this particular outcome.
Step 3 – STATE YOUR NEED
So now you've listened to find out what the other person wants, and the NEED that drives those wants. If you've done that well, he'll feel that you really understand where he's coming from.
What you do now is ask the individual to listen while you explain where you're coming from. Describe what you want as clearly as possible –
"What I'm asking for is…"
Then say why it's important to you, something like:
"The reason I want this is because it's a way for me to…"
Complete the sentence by stating the goal or NEED that has led you to want it.
Step 4 – BRAINSTORM WAYS TO MEET BOTH NEEDS
Tell the other person that you're flexible, that you're open to other possibilities, and that you believe there may be ways to meet both your needs that haven't been considered yet.
Ask the person to join you in coming up with some new ideas to specifically address both your needs.
For example, you might say,
"You said your need is X, while my need is Y. What if we ask the question this way: '
What are some other possibilities that will allow us to meet both our needs at the same time?'"
You may have to come up with the first idea. Encourage the other person to think of some, too. Try to push for at least ten ideas. Be sure to write them down, so you can review them.
Step 5 – AGREE ON A MUTUALLY ACCEPTABLE SOLUTION
What you do next is ask the individual to point out which ideas he likes best. You do the same thing. Then identify the ideas that appear to be acceptable to both of you.
Check for commitment. Say something like,
"You said this solution here was fine with you. Well, that works for me, too. Shall we agree to it?"
If you take an approach that seeks a win for both of you, the tension dissipates. And you're much more likely to resolve the situation in a way that leaves both of you feeling satisfied.
"Conflict cannot survive without your participation."
Wayne Dyer, American author (1940- )