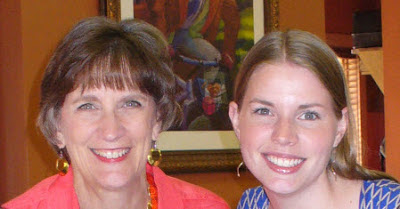 Me and my daughter Alison - great friends as adults!
For many years I was a consultant, working with leaders and employees in different kinds of organizations. One of the main areas I focused on was helping them develop better communication skills – like listening, giving and receiving feedback, and resolving conflict. I've spoken, written and developed products in the area of people skills for 25 years.
It's one thing to apply these skills in a professional setting, but quite another to use them with family members at home.
That was my challenge when my daughter Alison entered adolescence. The delightful child we had raised was transformed at times into a stranger I didn't recognize.
How well did all my knowledge about people skills serve me during her teen years?
That's the subject of a conversation I had with my business partner, Denny Coates, where I shared the good, the bad, and the ugly about Alison's adolescence.
Click the link to listen now or right click to download the mp3 file.
Using people skills with a teenager
At the end of the interview, I mentioned two books that Denny has written for preteens and their parents:
Conversations with the Wise Aunt
and
Conversations with the Wise Uncle
I wish I'd had the one for girls when Alison was growing up. What a terrific resource for helping parents talk with their children about sensitive subjects like sex, alcohol and peer pressure.
If you have a young teen or know someone who does,
check out these books
. They're available on Amazon, and you can
get the Kindle version at the special price of $2.99 until December 31
.
And even better, Denny's created
free discussion guides
to help you and your child get the most from the books.
Grab these valuable resources now. They could be among the best investments you ever make in your relationship with your child.