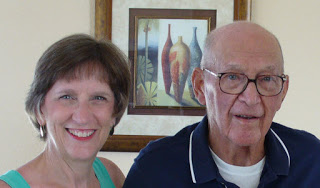 Me with my dad, James "Mike" Melancon
On Sunday, November 25, 2012, my father died at the age of 90. In this post, I reflect on his life and the impact he had on others...
My mother, sister and I were meeting with the funeral director this week, and he said something that stuck with me:
"When we get to the end of our lives, we all want to feel that we mattered."
As sad as it was to say goodbye to my special father, it was comforting to think about all the ways he mattered to his family - his wife of 64 years, his 6 children, 10 grandchildren and 5 great-grandchildren.
But he also mattered to everyone who was lucky enough to know him. Throughout his entire life, I never heard of a single person disliking him. He made a point of being
kind
and looking for ways he could contribute, with no expectation of receiving something in return.
His
work ethic
was something to behold. During his college years, he worked three jobs in addition to carrying a full course load. In 1978, when Dad retired after 30 years of service with the US Department of Agriculture, one of his colleagues wrote, "I concluded long ago that there is not a lazy bone in Mike Melancon's body." This was true not just in the way he approached his career. Our yard was always the most beautiful in the neighborhood. Dad labored tirelessly to make sure the lawn, shrubs and rose bushes were manicured to perfection. People actually stopped and got out of their cars when driving by to comment on his handiwork.
Dad's
honesty
and
integrity
were impeccable. If he made a commitment, he followed through. Every time. When you met him, you could sense instantly that he was a man you could trust. You knew he was someone who would do the right thing. And he held others to this same standard. His B.S. detector was finely tuned, and it's a key reason he retired earlier than he should have. In his last years at USDA, Dad's boss was a political appointee who made decisions based on personal gain, not what was best for the department, and Dad literally couldn't stomach what was happening.
He also demanded
excellence
from himself and his children. It was like a personal affront if one of us put forth a half-hearted effort. When I came home with a D in Geography one time, I clearly recall his reaction: "No one in this family has ever gotten a D and I don't expect to see another one from you again." And he didn't.
One of his most famous and beloved phrases was,
"Use good judgment."
Whether we were heading out the door on a date or making a weighty career decision, this sage advice served us well over the years. We now say it to each other and to our children, followed by a chuckle and a smile as we reflect on the man who started it all.
We will forever treasure Dad's
sense of humor
. This was not a man who mastered the art of telling jokes. No, his way was to casually spurt out one-liners that caught you by surprise and made you laugh out loud. Even in his final months, when he needed assistance with every aspect of living, he would say something to crack us up and lighten the mood.
This
generous, humble
man never wanted to be in the spotlight. He shunned a big party for his and Mom's 50th wedding anniversary in favor of a small gathering of his children and grandchildren. Every three years for the past two decades he funded a reunion for these same family members so we could bond and create more memories that drew us even closer.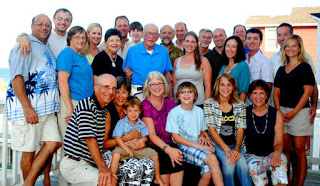 2010 Family Reunion at Outer Banks
He and my mother also taught us about
love
by the way they took care of each other and the way they treated us. We always knew that, no matter what we did, they'd be there for us and love us unconditionally.
So at this time, as we honor my father and the legacy he has left, think about how you want to be remembered.
How do you need to live today so that your contributions live on in those who were touched by your life?
I can say with certainty that Dad's positive impact will be felt for generations to come. He was not a celebrity or public figure whose actions affected thousands or millions. But he was an outstanding human being whose life truly did matter to all of us who were privileged to know and love him.