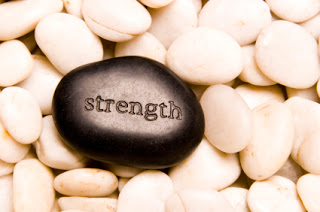 When it comes to character development, people often use words like "quality" or "trait" to describe personal strengths like honesty, integrity, courage and perseverance. But these terms miss the mark.
The reason: The only way others can really tell if you're honest or courageous when you face a challenge is by observing your
behavior
.
What do you actually DO when you're in a situation that requires you to tell the truth or take a calculated risk? It's not about what you say you value, it's how you act in the moment.
Reading books to get inspired will only take you so far. And it's not enough to think of yourself as a person who values decisiveness, compassion, and initiative. The real test is: Do you consistently make decisions in a timely manner, treat others kindly and take appropriate action without being asked to?
Many character education programs in schools these days fall far short of helping students actually
become
people of character. They may teach the importance of fairness, excellence, commitment and personal responsibility. But they don't give kids the opportunity to actually
develop
these behavior patterns.
You build
physical strength
by repeatedly exercising certain muscles. Whether you're working with a trainer at the gym or going through work-out DVDs at home, practice and repetition are keys to getting in shape.
In a similar way, you develop a
personal strength
by repeating a behavior pattern until it becomes comfortable. You're actually wiring a circuit in your brain that enables you to do it automatically.
Here's why that kind of repetition is so important.
When you face a difficult situation, you don't always have time to think through how you'll respond. That means you often react with a pattern you've ingrained over time. So what kinds of patterns have you established?
Let's say someone asks you if you got a specific task or project done. If you didn't, will you admit the truth or try to cover up to save face? If you've developed a pattern of being honest most of the time, you'll be more likely to tell the truth in this situation.
Or you're upset because another person didn't follow through with something they promised to do. Do you keep your cool and maintain your composure, or do you fly off the handle and react emotionally?
So what behavior patterns related to personal strengths have you established? Have you created habits that make it easy for you to do the hard things in your work and personal life?
Until now there hasn't been a system for helping people build these core personal strengths. Our
ProStar Coach
program provides the
content
and the
structure
to help you develop 40 different strengths. If you're committed to being a lifelong learner, you owe it to yourself to check it out.