It's not often that I read a book that touches my mind, heart and spirit in a profound way. But
A Coach And A Miracle
is such a book. Coauthored by high school basketball coach
Jim Johnson
and journalist
Mike Latona
, it details a remarkable event in the life of an autistic high school senior.
But it's so much more…
I was already familiar with the story that formed the basis for the book because it received coverage on every major TV station in 2006. Jason "J-Mac" McElwain served as manager on the Greece Athena High School basketball team for three years. On senior night Coach Jim Johnson gives him an opportunity to play in the final game of the season. He astounds everyone by scoring 20 points, including SIX 3-point shots, in the last four minutes of the game.
Selfless teamwork
The feat itself was amazing since J-Mac had never played in a single varsity game. But the exuberant reaction of the team and fans was equally impressive. As Seth Davis of CBS and
Sport Illustrated
said, "The real story was the reaction of the students; I think they were happier for Jason than he was for himself. The story encompassed the entire team and student body, and not just one kid."
During those last final minutes, his teammates made a point of getting the ball to him because they recognized this was
his
moment. J-Mac had been their encourager throughout the season, helping them stay focused and exhibiting unbridled enthusiasm in the face of their greatest challenges during games. They cared more about his opportunities to shoot during those final minutes than they did about taking their own shots.
The attitude and behavior of these players serve as an inspiration for anyone on a team working to achieve an important goal.
Inside look at a coach's challenges
This book is not a one-dimensional look about a single event. Jim uses the experience to drive home many of his core values, like passion, teamwork, perseverance, and integrity. Readers are also given a rare look inside the life of a high school basketball coach.
For example, Jim openly talks about the difficulties he faced earlier that season with a group of parents who came to him upset about perceived favoritism. Constant challenges for a coach of any kind of sports team include listening to complaints from parents about their child being cut from the team or not being given enough playing time.
I shook my head as I thought about the disservice parents do to their children when they "do battle" on their behalf instead of allowing them to experience the realities of life. Then I cheered when I read Jim's perspective after
his
son had been cut from a music theater production:
"I'd rather see my son go in and advocate for himself. That teaches him something about taking ownership, and besides, he would understand the feedback better by hearing it directly, rather than having it filtered through me."
A source of hope for parents of autistic children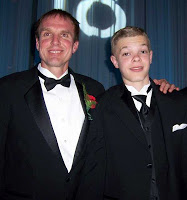 Coach Johnson with J-Mac
J-Mac's accomplishment triggered a positive reaction around the world. Letters poured in to Jim from parents whose children are autistic or otherwise mentally and physically challenged. They thanked him for believing in Jason and giving him an opportunity to make a contribution – not just that night but during all his years as team manager. The underlying theme in all their messages was the importance of
inclusion
– allowing students who are often perceived as different to be a part of a team or a group.
Jim Johnson stands out as a man who is committed to doing just that. In fact, his goal in coaching is about "guiding young men into adulthood," not just winning games. He's dedicated to teaching them first and foremost how to succeed "in the game of life."
You can find many videos about this extraordinary event, but the one from ESPN is my favorite because ESPN's Tom Rinaldi weaves a touching narrative throughout the video clips. You also get to hear Jim Johnson and J-Mac describe their experience about that unforgettable night.
A Coach And A Miracle
is a book about living a life with passion and a mission, and I'm confident your life will be richer after you read this remarkable story.
"The great lesson here for a coach, parent, teacher, uncle, or grandmother is in believing in young people—to have the belief that young people have more in them than we can ever estimate. The decision that night is the culmination of Coach Johnson's belief in J-Mac for years." – Tom Rinaldi,ESPN reporter