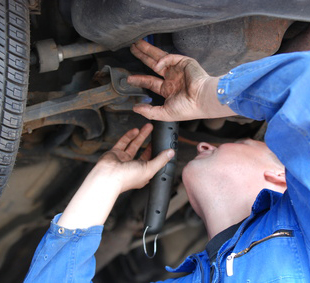 What words come to mind when you hear "car repair shop?"
Shoddy work? Rip-off? Shady owner?
None of those descriptions apply to the place I go.
We've been taking our cars to the same auto repair shop for more than 20 years. That's pretty amazing, isn't it? The first time we walked into
Custom Car Care
, my husband – who is very picky when it comes to car maintenance - was immediately impressed because the place was clean and organized.
We quickly learned that the owner had high standards and was someone we could trust. The technicians know what they're doing, and I don't find dirt or grime in my car when I pick it up. Even though it's not the cheapest place in town, I wouldn't think of going anywhere else. Everyone there is dedicated to excellence, and because of that, I recommend this shop to everyone I know.
It takes a lot of work to be the best. You have to set high standards, and you have to live up to them. Sometimes, "good enough" can seem appealing. Why make the extra effort when you're not sure if anyone cares – or will notice the difference? The rewards for your best work aren't always obvious, and there's no guarantee that you'll be better off if you make the extra effort. For all those reasons, many people take the easy way out and just do the minimum.
But you know, there are big payoffs for excellence, both tangible and intangible. You can see the results of high quality, and doing your best feels better than just getting by. When you take pride in what you do, it shows and people
will
notice. You stand out because mediocre performance is much more common, so you'll appreciate the recognition you get because of your efforts. And you know what else? When you're doing something as well as you can, your life is more meaningful. You enjoy it more.

That's the approach we've taken for the past 25 years here at PSS. It's extremely gratifying to receive unsolicited emails and phone calls from customers who rave about the quality of our product and our technical support. Many of them have worked with us for almost 20 years!
An example of an email that came in recently to our technical support team:
"I just want to thank you again for all the help you provided on this employee satisfaction project. The feedback from the execs has been outstanding. They were very impressed with the 20/20 Insight assessment tool and the wealth of usable information we could provide.
"This could not have happened without you. Your expertise, guidance and creativity from the beginning to set this up, tweak the system, trouble shoot with me and our IT person are immeasurable. You also have a terrific knack in translating the technical to lay language that made it very easy for me to understand and use.
"In other words, I think you are the BEST! I cannot thank you enough. You both have a very calming and reassuring approach."
These days, it's hard to find a small company that's been in business 25 years
and
has consistently delivered excellence. We're proud to be one of those companies.
Our products include:
ProStar Coach
,
20/20 Insight
, and
Surveys for Small Business
. Check them out if you're looking for first-class assessment and development tools!
"We are what we repeatedly do. Excellence, then, is not an act but a habit." – Aristotle
"When we do the best we can, we never know what miracle is wrought in our life, or in the life of another." - Helen Keller
"Everything we do has our own personal signature on it. So we want to do it as well as we possibly can." - Mike Krzyzewski