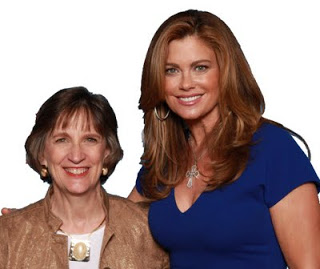 At the 2011 Glazer-Kennedy SuperConference, I had the privilege of meeting
Kathy Ireland
and hearing her address the audience of 1200 entrepreneurs.
Although she originally gained fame as a model on the cover of magazines like Sports Illustrated, today Kathy is CEO and Chief Designer of
Kathy Ireland Worldwide
, a 1.4 Billion dollar company selling 45,000 products in 50 countries.
It's easy to look at someone who's attained celebrity status like Kathy and make assumptions about what led to her current success. I know I did. And I was surprised at how wrong I was.
Kathy continues to deal with rejection
every day
, and she's heard criticism since starting her very first jobs. Her persistence in the face of these setbacks was truly inspiring.
Some of my favorite quotes and stories from her presentation…
"Don't give up due to
someone else's criticism."
At age 11 she faced her first instance of discrimination when she became a newspaper carrier (a job she kept until age 16). One of her older male customers told her a girl shouldn't have that job. It was something boys were supposed to do. Every time she thought of quitting, she recalled his words and became more determined than ever to excel in that role. She went on to win "carrier of the year" every year she had a paper route.
"What you have to give up is not a sacrifice,
it's a bold investment."
When Kathy first started her product company, she traveled around the country approaching retailers. In those early days, she slept at the airport to save money. She didn't mind doing that because she was willing to do whatever was needed to get the business going.
"I look at failure as education.
Kathy's company started out selling one product, socks, and expanded from there. She was primarily tied to one channel, a major retailer; and when it experienced serious financial difficulties, her company was in big trouble. Eventually she started working with chains of independent retailers, but not before her company experienced some very tough times.
"Have you been rejected in the last 30 days?
If not, you may not be trying hard enough."
Once she'd established herself as a serious businesswoman, Kathy wanted to be interviewed by television journalist, Maria Bartiromo. Over a period of
FIVE YEARS
, Maria consistently said no. Kathy was told she needed to grow as an "interviewee" first. She committed to doing just that and eventually scored that interview along with dozens of others.
She wanted to add "weddings" as a category. For
SEVEN YEARS
she got "no" from the top bridal gown company. With perseverance, she eventually got to "yes" and her company now features thousands of gowns.
"You can be mentored by someone
without ever meeting them."
Before meeting her, Kathy was inspired by Elizabeth Taylor because of the way she stood up for HIV and AIDS patients, in spite of criticism and death threats.
Today Kathy serves on two boards of non-profit organizations dedicated to children, and she donates considerable personal time and money to causes that make a real difference in the lives of others.
Kathy Ireland is one of those special human beings who made a successful transition from magazine model to role model.
"Sometimes we have to say NO to GOOD things
in order to say YES to GREAT things."