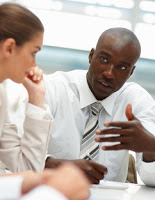 I recently purchased and studied an online program called
Connected
by Eben Pagan and Dave Logan.
Without a doubt, one of the best investments I've ever made.
If you're interested in creating solid business and personal relationships, the strategies shared here can catapult your networking efforts to an entirely different level. Here's their most powerful concept…
Eben and Dave recommend that you focus on forming "
triads
," which redefines your purpose for meeting others. You don't introduce yourself to someone else with the goal of finding out what the two of you might have in common. Instead, you ask questions and listen to learn who else you can connect that person with. Who do they need to meet in order to make progress on their current priorities and projects? Who else shares their vision and values?
You become a connector who brings two people together – hence, the triad.
Imagine the dramatic shift in mindset you need to make in order to approach someone with that intention. It's no longer about collecting business cards so you can follow up later and try to book an appointment or sell your products or services. It's about having a sincere desire to help others achieve their goals—by connecting them with people you know.
While the concept made sense and resonated with me, I wondered,
"Will this work in the real world?"
I had a chance to put it to the test last week at the
Glazer-Kennedy Insider's Circle
(GKIC) SuperConference.
I've been a GKIC member for more almost three years and always attend their two big events each year. I've gotten to know quite a few people and keep in touch through social media. I decided that, at this conference, I was going to see how many people I could introduce to each other.
My feelings about the experience, as well as the results, were
spectacular
.
With the focus on learning more about the other person, I was relaxed and comfortable. I felt no pressure to tell them about my product or persuade them to take a specific action that would benefit me.
In one case, I talked with a person who needed help thinking through the next step for his business. He wasn't in a mastermind group and wasn't currently working with a coach, and he was stuck. I asked a couple of my bright, creative friends to join in a mini-mastermind meeting with him, and six of us ended up getting together over dinner. He got some breakthrough ideas that he'll be implementing in the coming months. He was very appreciative of my efforts, and now he's eager to help me in a specific area of my business.
Another example was a woman I met on the first day who was just getting started with an information product. This was her first GKIC event so she didn't know many people. We became fast friends, and over the next few days I introduced her to several people who would be good future contacts for her. On the last evening, she gave me a terrific introduction to someone I had been wanting to meet; and that person was instantly impressed with me because of what my new friend said about me.
In both of these instances, I had no expectation of getting something in return. My sole purpose was to discover what someone else needed and figure out who could help them.
You might be skeptical, as I was when Eben and Dave described how "magical" this approach is. But after experiencing first-hand what can happen – and how good it feels – I've become a believer. And I'll be adopting this mindset at every event I attend from now on.
What I've shared here is just the tip of the iceberg.
Connected
is filled with valuable information about human psychology and what it takes to form deep, meaningful relationships. If those topics interest you, I highly recommend the program.
"More evolved beings want to contribute without getting anything back. They don't need to worry about if they're going to get a fair shake 100% of the time, because they know if they don't get it back from a particular person, it's no big deal." – Eben Pagan