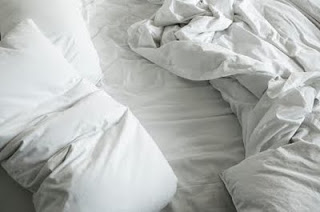 "I've got to make the bed every morning before I can leave for work," my friend complained as we were having lunch one day. She had been describing the stress she was under, all the things she had to do each day, and why she had no time to relax. Making the bed was on her list of daily "must-do" tasks.
She looked startled when I asked her, "Why? Why do you feel that you have to make the bed every day?" After pondering the question a moment, she realized that it was one of the rules she'd absorbed from her mother and had never questioned in her almost-60 years of life.
That simple observation led to a deeper discussion about what it feels like when we're driven by voices from the past to take certain actions...but we've never questioned the accuracy or wisdom of the messenger. The consequences of yielding to "have-to" and "should do" without making a conscious choice can lead to feelings of guilt and low self-esteem. We feel bad about ourselves because we haven't done something that we believe someone else expects us to do.
My friend's mother had been dead for many years, yet she still felt compelled to comply with expectations set in childhood. She realized through our conversation that she had been putting undue pressure on herself in order to earn the love and acceptance of someone who was no longer in this world. Her self-esteem had been wrapped around a need for approval that would never come.
Once she liberated herself from the helpless mindset of a victim and recognized that she had choices, she could freely decide each day the tasks that would get done or be left undone.
A few weeks later I saw her and she was beaming as she related her recent experience. "Meredith, the first morning I decided not to make the bed, I felt like a weight had been lifted off my shoulders. And I just laughed looking at those crumpled sheets, thinking about how I'd let them control me every day."
Take the time to examine your own "must-do" list, and you may discover some things that you can let go of. It's not easy to explore why we perform or avoid certain actions. Truths about ourselves may be brought to light that we'd rather not see. But the freedom and relief you experience once you go through the process make it well worth the effort.
Please share your own experience about learning how to make healthy choices and avoid being driven by the expectations of others.