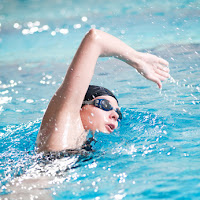 "You don't win an Olympic gold medal
with a few weeks of intensive training."
- Seth Godin, American author (1960- )
With the Summer Olympics in full swing, millions are glued to their screens to see who gets awarded the top medals.
Few of us can appreciate the price each of these competitors has paid, just to make it to the games.
Getting up before dawn to train
Putting in long, grueling hours
Dealing with physical pain from the exertion
Feeling exhausted and tumbling into bed, only to repeat the process the next day
And this goes on for
years
.
I often wonder what kinds of habits and mental toughness these elite athletes must adopt to continually put forth the same level of effort day after day.
Most of them probably use visualization to imagine themselves on the platform, being awarded the gold medal. There's real power in vividly picturing details about the event and feeling the positive emotions they'll experience at that moment.
But the truth is, they still have to
do the work
.
The best coaches in the world can show them
what
to do and
how
to do. Coaches can also offer feedback, encouragement and support. But no one else except
the individual athlete
s can practice and perfect the necessary moves to achieve a flawless performance.
And if they experience a setback during practice or the competition, they have to pick themselves back up – physically and psychologically – in order to continue to give their best and stay in the game.
Most of us who've never competed at this level find it hard to comprehend the drive and dedication required for Olympic competition. But U.S. President Woodrow Wilson could have had these superstars in mind when he said:
"It is only by working with an energy which is almost superhuman and which looks to uninterested spectators like insanity that we can accomplish anything worth the achievement."
In your own life, do you have a goal so ambitious that others sometimes question your sanity?
What do you care about so deeply that you're willing to pay a high price – in terms of effort, time and mental energy – to achieve it?
You have to develop a thick skin to become immune to the criticism, skepticism and questions of those who doubt your ability to achieve your dream.
And you have to stay committed to putting forth the effort in spite of obstacles, setbacks and even failures. Take encouragement from each of these individuals, who achieved greatness in their respective areas and understood the price they had to pay to attain the results they wanted:
"Hard work overcomes anything. Anytime something's not going right or you want to accomplish something, the best answer to it is to work hard and work through things." - Mike Dunleavy, American professional basketball coach (1954- )
"The highest compliment that you can pay me is to say that I work hard every day." - Wayne Gretzky, Canadian ice hockey player (1961- )
"If everything's under control, you're going too slow." – Mario Andretti, Italian race car driver (1940- )
"Always make a total effort, even when the odds are against you." – Arnold Palmer, American professional golfer (1929- )