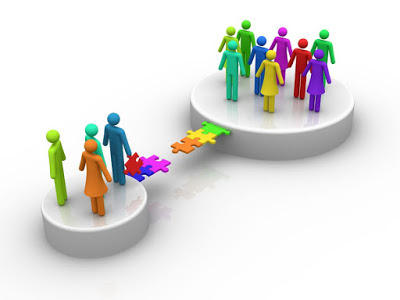 "Everyone carries with them at least one piece to someone else's puzzle."
- Lawrence Kushner, American author (1943- )
Unfortunately, "collaboration" is not visible in many workplaces. Instead, there's competition and jockeying for position. In places I've worked – either as an employee or as a consultant with clients – I faced politics and bureaucracy that undermined efforts to create a collaborative environment. And yet, this ideal IS possible to achieve.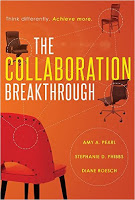 In
The Collaboration Breakthrough
, authors Amy Pearl, Stephanie Phibbs and Diane Roesch provide a practical structure with detailed steps for establishing exactly this kind of culture.
I enjoyed the fable told in first person, with diverse characters I recognized from my own work experience. The authors stress the importance of approaching people differently, according to
their
style – so communication is easier. I liked that a balanced perspective was presented, focusing on what each manager's strengths (and overuse of the strengths) look like in action and the best ways to speak to someone based on what's important to them.
The model for achieving a collaboration breakthrough consists of 5 C's:
CONFIDENCE
– This is not about self-confidence but more about the trust and confidence you need to have in others.
CONVERSATIONS
– Three types of conversations are described, with realistic sample scripts provided for each. I liked these examples because they helped me see what this sounds like when interacting in specific situations.
COMMITMENT
– These 5 questions a powerful means for unlocking creativity, stimulating dialogue and coming up with solutions that everyone can support.
CLARITY
– Clear, simple directions for writing a one-page Playbook (love the brevity!) that states the desired outcomes and what's needed to reach them.
COURAGE
– Ask a fundamental question, "What have I got to lose?" and then commit to action.
This framework is illustrated through the fable and then summarized by the authors in the last section of the book. The writing style is conversational and engaging to read. When I read a book like this, I'm looking for specific ideas I can apply to improve my business AND myself. I found both here.
I highly recommend this book if you're looking for ways to have people work together more effectively to achieve the important goals of your organization.
"Coming together is a beginning. Keeping together is progress. Working together is success."
- Henry Ford, American business leader (1863-1947)