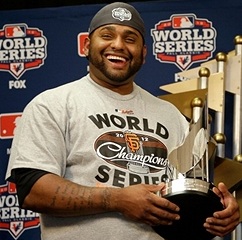 Pablo Sandoval, accepting MVP award
I don't follow Major League Baseball much during the regular season, but I often enjoy the playoffs and World Series.
This year, it was fascinating to watch the San Francisco Giants rally back against the St. Louis Cardinals and then dismantle the Detroit Tigers in four games to win the World Series.
Pablo Sandoval
, who plays third base for the Giants, was awarded MVP after hitting .500, which included three home runs…
in ONE game!
Only three other players in the history of baseball have ever achieved that feat during a World Series game: Babe Ruth, Reggie Jackson and Albert Pujols.
It was fun to watch Pablo Sandoval. You could tell he has confidence when he approaches the plate. There's no evidence of fear or intimidation in his face when he's waiting for the pitcher to throw the ball. And he doesn't hesitate to swing at the ball.
As I was watching game 4, I learned the secret behind this attitude.
When Sandoval came up to bat, one of the announcers casually mentioned his three-word philosophy. I immediately ran to my desk, grabbed a sheet of paper and wrote it down. I wanted to permanently emblazon these words in my brain:
Sounds so simple, doesn't it?
If you're a baseball player, of course that's what you do. But the truth is, that is not what all players do. Some wait too long for the perfect pitch, and as a result, they miss out on possible base hits or home runs.
But not Sandoval.
He recognizes that the more swings he takes, the more likely he is to hit the ball. That's the only way he can ever hit a home run, even if it means he often strikes out in the process.
And his uncomplicated yet profound philosophy is something you can apply even if you never hold a baseball bat in your hands.
How many times do you hesitate to take action because you're…
…afraid of failure?
…concerned about criticism from others?
…striving for perfection?
…anxious about making a mistake?
Next time you're in a situation that requires you to get out of your comfort zone, repeat these three words, "Swing the bat," and then do it. Again and again and again.
That's what it takes to get past your fear and develop the confidence and courage to achieve the great things that are possible in your life.
"Never let the fear of striking out get in your way." -
Babe Ruth, professional baseball player (1895-1948)