When I attend conferences, I closely study what the speakers do to capture and keep the attention of the audience. I'm especially interested in their use of personal stories. For me, the most memorable presenters are those who reveal their own challenges or personal weaknesses, and then share what they did to prevail in spite of the difficulties.
These revelations inspire listeners to think,
"Hey, that person is just like me. If s/he could overcome those odds, I can, too!"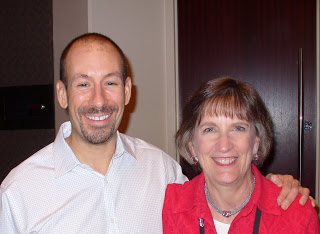 Joe Polish and me after his presentation
Joe Polish
is that kind of speaker. The creator of Piranha Marketing and co-host of the free
I Love Marketing podcasts
, Joe was a featured speaker at the recent Glazer-Kennedy Insider's Circle SuperConference.
When Joe finished his presentation, at least half the audience (including yours truly) rushed to the back of the room to buy the resources he was offering.
What compelled hundreds of people to pull out their credit cards and invest $497 in his materials?
A few of the reasons…
Joe played an introductory video that positioned him as an expert - he didn't have to convince us.
He gave specific ideas we could implement. They were so good that we wanted more of what he had.
His products contained practical content that would benefit any serious marketer.
A video at the end of his presentation convincingly explained the value of the resources he was offering.
But none of those would have been as effective if Joe himself had not built credibility and trust with the audience. And one way he achieved that was through
appropriate self-disclosure
throughout his presentation.
So what exactly DID Joe say?
He described his own painful experiences.
Joe's initial years in the carpet cleaning business were rough. He almost quit because he couldn't figure out how to build a profitable company. He struggled for years before figuring out a marketing system that turned his business around.
He shared his personal flaws
. He didn't set himself up as the perfect person that everyone should strive to emulate. Instead, he openly admitted choices he had made that got him into trouble…and the consequences he'd suffered as a result.
He made fun of himself.
You have to be careful when using self-deprecating humor. The audience can become uncomfortable when someone puts himself down and seems to mean it. But Joe had the uncanny ability to talk about his imperfections in a way that elicited admiration, respect and laughter.
He was authentic.
Joe's desire to help others and save them the same pain he experienced was genuine and believable. We sensed that he truly cared about each of us creating a successful business.
What's the lesson for you?
Even if you never stand on a stage before a live audience, you can keep these behaviors in mind when interacting with people one-on-one or in small groups. It's natural to want to present yourself in the best light, so you may be tempted to minimize your own imperfections and mistakes.
But if you really want to connect with others at a deep level – as a parent, spouse, leader, teacher or friend – you have to be real. That means showing genuine concern for their situation…quickly admitting your mistakes…revealing your true thoughts and feelings…and not taking yourself too seriously.
When you're able to be comfortable in your own skin – as Joe clearly was – you can then build relationships on a firm basis of trust and respect, and people will want to follow you.