After the killing of 26 innocent children and adults took place at Sandy Hook Elementary School on December 14, 2012, many parents have hugged their kids tighter and said, "I love you" more often.
Clearly, work needs to be done on many fronts to prevent future atrocities. But most of us are not in positions to directly impact national policies and laws.
There is much you can do in your own home to influence your children and the minds they develop. With a crisis of violence clearly building in this country, you have a responsibility as a parent to provide strong leadership in your individual family.
Here are a few positive steps you can take to foster emotional and mental health in your child.
Limit use of electronic devices.
I know a very successful entrepreneur who could easily buy a TV, smart phone, tablet, video game equipment and every other electronic gadget for each of his kids to have in their rooms. But he's bought none of these. Instead, the family has a single TV in the family room, and they watch programs together. Their family computer is on a desk in the kitchen, so what the kids do online can be monitored.
This father doesn't want to give his children more freedom than they can handle, and he's keenly aware of the dangers involved with unsupervised activities.
You would be wise to evaluate how your kids are using these devices and determine if any changes are needed.
Be aware.
You have to spend time with your child to become familiar with her habits and routines. Only then will you be able to recognize subtle (or big) changes in her behavior. Pay attention to friends as well as eating and sleeping patterns. All of these give clues about her mental, physical and emotional health.
Be present.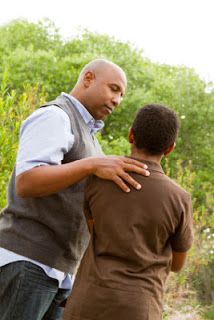 When you're with your kids, be there completely for them. Do not take phone calls, send text messages or get distracted. You communicate a powerful statement when you focus exclusively on your child: "You're important to me. In fact, you're the most important person in my world right now, and you have my full attention."
Knowing you care enough to invest time with him has a profound impact on a young person's developing self-image.
Listen and ask questions.
Make the most of your time together by listening closely to what your child is saying. To make sure you understand her message, restate what she said in your own words. Check to see if you got it right before moving forward with the conversation. Invite deeper discussion by asking questions that require thought and reflection.
Meaningful interactions allow you to influence your child's thinking and development without being pushy or autocratic.
The time you invest in these activities with your child can help you build a strong bond
for life
.