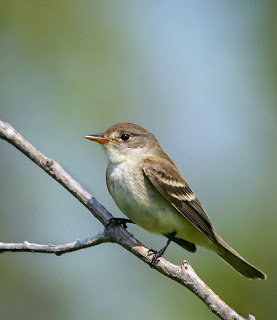 Willow Flycatcher, photo by A.J. Hand
I had a small personal victory over the Memorial Day week-end that went unnoticed by most of the world, but it was important to me.
My husband Lee and I are what the
National Audubon Society
calls "citizen scientists." Every time we go out bird-watching, I make notes about the numbers of each species we see and later enter our observations in a national database. We also participate in their annual Christmas Bird Count, a project established in 1900 to collect critical data about bird population trends.
We've been avid "birders" for more than a decade now. During the early years, I quickly learned that we would
hear
more birds than we'd ever
see
. Many of them nest and feed in grasses, dense bushes or the foliage of tall trees, making them difficult to view.
Lee doesn't hear high frequencies so he's unable to detect most of the songs even when we're in close range. If we were going to add more species to our lists, I was the one who needed to become skilled at identifying them by song. I was excited about doing this because I really
wanted
to know the kind of bird creating each lovely melody.
My challenge was that I'm more of a visual learner. After I study the picture of a specific species, it's fairly easy for me to remember individual markings when I see the bird in the field. But I don't have the same knack with my ears. I had a tough time distinguishing subtle differences in the songs, and many of them sounded identical when I first started paying attention to them.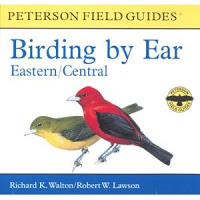 I realized I'd have to invest a good bit of time in this endeavor if I hoped to achieve the level of skill needed for accurate identification. So I bought instructional CDs like
"Birding by Ear"
and listened to them repeatedly in the car during my commute to and from work each day.
Slowly I learned one and then another. But of course, the real test came when we were out birding. If I'd never
applied
what I learned – in the field, with real birds – I would never have achieved the level of skill that I have today.
So what was my victory?
Lee and I spent one morning in a nearby area close to the York River that we visit often. We had just stopped to check out a cut-over area when I heard a different song, one I'd encountered only a few times before in the mountains, not in these marshes. Yet I instantly knew it was a type of flycatcher because I'd listened to those CDs so many times, and my brain recalled the pattern of the song. I pulled out my iPod, played the song of a
Willow Flycatcher
to check my assumption, and the bird immediately responded by flying in and perching on a wire overhead, giving us a fantastic look. It sang a couple more times, a perfect match with the recorded song, proving that my initial guess was correct.
As far as I know, that species has not been reported in our area before, so this was an important piece of data. And it wouldn't have happened without my investing hundreds of hours in two activities: listening to the instructional CDs and applying what I learned in the field.
What's an area
you
want to improve or strengthen? You
can
get stronger if you make the commitment and then follow through with the necessary practice and repetition. Because there is no short-cut. It takes time for your brain to create the circuits that make the behavior natural and automatic.
The question is,
are you willing to do whatever it takes to achieve that level of mastery?
"Desire is the key to motivation, but it's the determination and commitment to an unrelenting pursuit of your goal, a commitment to excellence, that will enable you to attain the success you seek." - Mario Andretti, Italian race car driver (1940- )