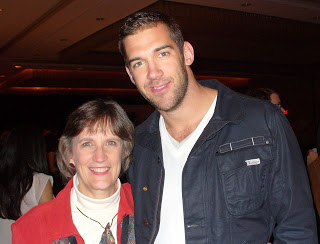 Meredith with Lewis Howes at Underground 8
Lewis Howes
is not a celebrity in the entertainment or sports world. But if you've studied social media, especially LinkedIn, you know he's a superstar in
that
arena.
I first learned about Lewis a couple of years ago when I wanted to find out how to use LinkedIn. His name popped up everywhere in my searches, and I invested in his book,
LinkedWorking
.
Since that time I've attended several webinars that he's hosted, invested in his products and heard him speak at live events. Most of the time, he focuses on specific tactics you can use to get positive results through social media sites like LinkedIn, Twitter, Facebook and YouTube.
But his recent presentation at
Yanik Silver
's Underground 8 conference stuck with me because of
one significant point he made
.
First, a little background.
When he graduated from college, Lewis fulfilled a childhood dream by earning a spot on an arena football team. But a serious injury to his wrist during a game destroyed that future, and he spent six months in a cast, followed by six months of rehabilitation. During that time, he was unemployed, living with his sister and sleeping on her couch.
One of his mentors suggested that he check out LinkedIn to look for a job. Lewis immersed himself in the site and after months of testing different strategies and forming several highly successful groups, he became an expert in creating networks and forming relationships with thousands of people.
Lewis has hosted more than 400 webinars and spoken to thousands at events. His email list of 75,000, his 12,000 Facebook fans and 500,000 views on YouTube are a testament to his ability to create a strong following.
For me, the key reason for his success can be summarized in this golden nugget Lewis shared with the audience at Yanik's event:
"Build a Network and Give First."
Lewis explained that
he's never asked anyone to do anything for him up-front
. Instead, he invests time in getting to know others first and figures out how he can help them.
A case in point: When Gary Vaynerchuk, host of Winelibrarytv.com for almost six years, published his latest book,
The Thank You Economy
, Lewis offered to interview him. As a result of Lewis promoting the call to his extensive list of contacts and conducting a great interview, Gary
sold 850 copies of his book
. This was a phenomenal result, especially compared to the paltry number Gary sold during his 30-city book tour. Lewis didn't receive any financial compensation for this. He'd gotten to know Gary through live events where they were both featured speakers, and Lewis simply reached out to him in a way that would benefit
Gary
.
Too often in networking situations, people watch for opportunities that will help their own business or career. They can hardly wait to jump in and talk about themselves or their products and services. There's no genuine interest in what's happening in the life of the other person.
You can start applying the wisdom that Lewis offers
today
. And not just with people you meet at networking events. You can use this with family, friends and colleagues, too. When you decide to
give first without expecting anything in return
, people sense your generous spirit and they will naturally look for ways to help you in the future.
"No one is where he or she wants to be. Everyone wants more out of life. Maybe there is something simple you can do to get them there, even if it is only feeling important because you spent a moment with them." – Lewis Howes in LinkedWorking