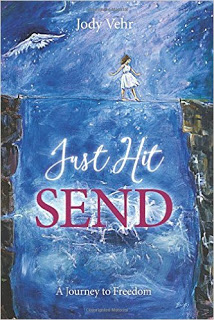 I have never read a book like Jody Vehr's before.
Just Hit Send
has a riveting story line and reads like one of those novels you can't put down.
But it's so much more.
Jody's writing style immediately captured my mind, heart and spirit…and held me captive throughout the entire book. This is the true story of a woman who faced incredible challenges and prevailed despite her raging inner critic and ongoing self-doubts.
It's also a beautiful love story, showing how strong and emotionally healthy a union can be when both people work on their own growth in advance of meeting each other.
I loved Jody's willingness to be vulnerable with the reader. She doesn't hesitate to describe her dismay, shock, and angst as she reveals the details of her life's journey. I could identify with many of her limiting thoughts and false beliefs. I believe they are universal, but I'd never before experienced anyone capturing them in such an emotionally compelling way.
I'm a huge fan of
Steve Hardison
's work (his 2-hour video on
TBOLITNFL.com
is profound) and Steve Chandler's books (including the one she references in her book,
Time Warrior
), so it was an unexpected bonus to discover the ways each of these coaches contributed to her transformation. In fact, Jody's retelling of her phone conversations with Steve Hardison is worth the price of the book alone because he demonstrates love and service in action.
This is a wonderfully written book that has deeply touched my life and forever changed how I see myself and the world. If you're seeking a spiritual transformation in your own life, I highly recommend you grab a copy of this book, absorb the wisdom in its pages and start living anew.
This sentence from the book describes what happened for me:
"Whatever we find beautiful, inspiring and magnificent in another human being is simply our own soul saying hello to itself."