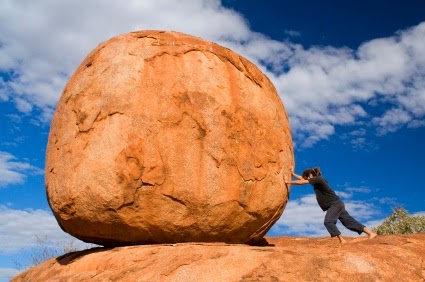 Imagine this.
You have an idea for a book that you believe would be fantastic. You draft a proposal and send it to five publishers as a test. They all say no.
You try five more. They say no, too.
You're discouraged but decide to double up and send your idea to TEN more publishers.
Still no takers.
That's 20 indicators that your idea has no merit.
What would you do at this point?
Most people would give up. Maybe their idea wasn't so great after all. Or it's not worth the effort to keep trying.
Jack Canfield and Mark Victor Hansen faced far worse rejections than this when they were trying to find a publisher for their first Chicken Soup for the Soul book.
They got
144 rejections
over a period of 18 months.
But all these rejections did not deter them. They had such a strong belief in their book that they simply moved on to a different publisher each time they got rejected.
Jack Canfield recounts their experience in this short video (2:18).
When you have an idea, goal, product or service that you deeply believe in, recognize that your opportunity can be realized if you commit to continue asking, no matter how many rejections you get.
Remind yourself of this wisdom from Jack Canfield:
"When the world says NO, you say NEXT."
And then reflect on these inspiring words from people who've experienced first-hand the pain of failure, rejection and ridicule, yet persevered until they prevailed…
"If I had to select one quality, one personal characteristic that I regard as being most highly correlated with success whatever the field, I would pick the trait of persistence. Determination. The will to endure to the end, to get knocked down 70 times and get up off the floor saying, 'Here comes number 71!'" - Richard DeVos, American businessman (1926- )
"When you get into a tight place and everything goes against you, till it seems as though you could not hold a minute longer, never give up then, for that is just the place and time that the tide will turn." - Harriet Beecher Stowe, American novelist (1811-1896)
"Always bear in mind that your own resolution to succeed is more important than any other thing." - Abraham Lincoln, American president (1809-1865)
"I will persist until I succeed. Always will I take another step. If that is of no avail I will take another, and yet another. In truth, one step at a time is not too difficult... I know that small attempts, repeated, will complete any undertaking." - Og Mandino, American author (1923-1996)
"It's not that I'm so smart, it's just that I stay with problems longer." - Albert Einstein, American physicist (1879-1955)
"If you can't fly, then run, if you can't run, then walk, if you can't walk, then crawl, but whatever you do, you have to keep moving forward." - Martin Luther King, Jr., American civil rights leader (1929-1968)