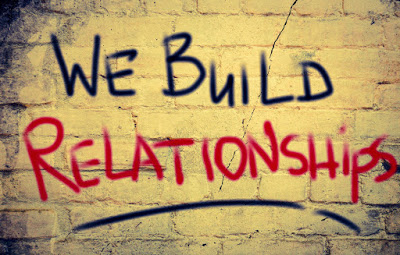 Success in business depends on getting new customers. That's obvious. But what's not so obvious is what it takes to create relationships that are so strong your clients want to continue working with you for years.
What if you delivered such profound service to your clients that one of them said something like this?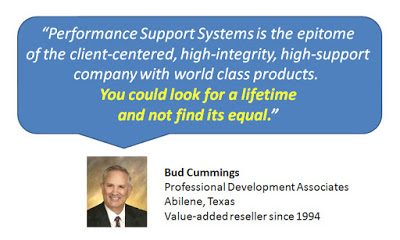 I received this testimonial from one of our resellers more than 10 years ago, and I cherish it to this day. In fact, we still work with Bud, and he continues to sing our praises to others.
We're not perfect, of course. Even though I have emails, cards and messages from other clients who've worked with us for 20+ years, we don't get it right 100% of the time.
But there are a few things we've done very well.
At the core…These actions are more about
your way of BEING with people
, not implementing a set of tactics. The common theme is SERVICE.
1. Make your initial conversations about the other person.
Whether it's a phone call, Skype call or in-person meeting, prepare by asking yourself this question: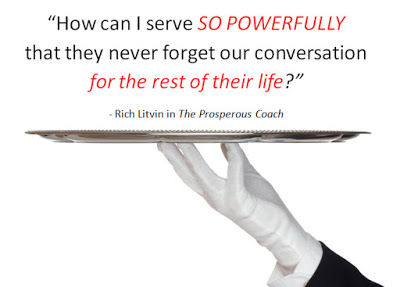 When you're centered on that question, you'll be able to feel relaxed and calm during the conversation. You won't be waiting for your turn to speak so you can launch into the benefits of your product or service.
There won't be any pressure on you to perform a certain way…or on the other person to buy something.
The purpose is NOT:
How can I make a positive IMPRESSION?
Instead, it's:
What can I CONTRIBUTE that would have a positive IMPACT?
How can I help them achieve a real BREAKTHROUGH in their thinking or their results?
After that initial conversation, find reasons to stay in touch and continue serving them. As one of my favorite authors,
Steve Chandler
likes to say, look for ways to
ASTONISH
them.
Recommend a book or podcast that helps them solve a problem.
Introduce them to someone who can help them reach their goals.
Send unexpected gifts or hand-written notes and cards.
Take this approach and you will stand out. You'll be memorable.
2. After they buy, make them feel valued – THANK and ASK.
Even though this happened several years ago, I'll never forget the day I decided to invest in
Ari Galper's
Unlock the Game sales course. Within 10 minutes of my clicking the Buy button on his website, my phone rang. It was Ari, calling to thank me for purchasing his course and assure me that I'd made a wise investment.
I've followed Ari's model with our own clients, with great results. When people buy software, they're often concerned that they'll have challenges learning to use the product or will have trouble reaching a knowledgeable, responsive person when they need technical support.
Right after someone orders our software, I call and thank them for choosing us. And I promise them that we're here to make sure they have a FANTASTIC experience using our program and working with us. That sets a positive tone right from the start.
As they use your product or service, be sure to
ASK
for their feedback and ideas – in a phone call or survey - to find out how you're doing and get the information you need to make positive changes.
Here are 3 simple questions:
What do you like best about doing business with us?
What do you NOT like about doing business with us?
What ONE THING could we do differently that would improve your experience with us?
You'll be amazed what you learn that can help you deliver better service to all your clients.
3. Be clear about your core values, and live them.
Your values are the principles or beliefs that drive everything.
Ask yourself.
What do we stand for?
What guides our decisions and behavior?
What do we want to be known for?
An even more powerful question that goes to the heart of relationship-building:
"How will our customers feel about themselves because of the way we treat them?"
Here are some of the principles that have guided our decisions and our actions for more than 30 years. These are also words our clients use when they send us unsolicited feedback.
Trust
– Tell the truth about what is/is not possible with our software.
Integrity
– Do what we say we'll do and we follow through on commitments.
Fairness
– Make decisions with the long-term view in mind, looking at what's best for all involved. If in doubt, err on the side of making the client delighted with the outcome.
Responsive
– Respond to phone calls and emails promptly. Resolve issues quickly.
Responsible
– Readily acknowledge when we make mistakes, apologize and do everything we can to make it right. No excuses.
Flexible
– Make exceptions or try something new to meet the needs of a specific client. We're not bound by rigid rules or a bureaucracy.
Think of the clarity you'll have when you create your own list of the values you want everyone in your company to adopt and live by.
Want more ideas?
Listen to this replay of my interview with Denise Griffitts
on her radio show, "Your Partner In Success," where she and I had discussed this same topic for a full hour!