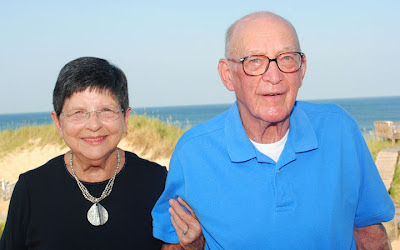 My amazing parents
"Keep a good heart. That's the most important thing in life. It's not how much money you make or what you can acquire. The art of it is to keep a good heart."
- Joni Mitchell, Canadian singer-composer (1943- )
If you're looking for a better way to live your life, you can't go wrong with the approach taken by the special man I'm proud to call my father.
I've been lucky to have my parents live close by since 1988. When my husband Lee and I were visiting them recently, the conversation turned to my dad and
his unique ability to build positive relationships with everyone he meets
. To my knowledge, he's never made an enemy in his life.
Just the opposite.
Those who meet him are drawn to him and enjoy his company immensely.
As we were exploring why he's so popular, my mother summarized the reason well: "It's because
he always tries to be kind to everyone
."
I immediately recognized the truth in her statement. I recalled Dad's story about the months he spent in the hospital during World War II recovering from a near-fatal injury. He told us how he made a point of treating the nurses with compassion. Despite his own pain, he understood that their work was not easy, and he didn't want to create more problems for them. So Dad was considerate and patient when making any requests.
Over the past 20 years, this tough 90 year-old man has been back in the hospital for surgery and other health-related issues more times than any of us would like to remember. I got to observe first-hand his consistent kindness to those who cared for him there, even though he was the one needing the attention and care.
An incident that occurred during one of those hospital stays illustrates his approach. I'd stopped by the hospital early one morning on my way to work. Dad was in quite a bit of pain because the nurse was late administering his pain medication. As soon as I discovered that, I jumped up to go look for a nurse. I'll never forget his words before I left the room.
"Now be nice when you ask them."
Another example…
Years ago when he was in strong physical condition, Dad was a favorite among the elderly widows in the neighborhood. He was the one they turned to when they needed something done in the yard or in their house. He cheerfully fixed whatever was needed and refused to accept any payment. So he and Mom were the beneficiaries of a parade of baked goods from their kitchens.
I admire my father for developing this lifelong attitude, bringing kindness and compassion to every interaction he has. It's an approach that's been absorbed by his six children and their spouses as well as his grandchildren. Quite a legacy to leave, since the world desperately needs more people who pay attention to the needs and feelings of others, not just their own.
Thanks, Dad. You're my hero.
"I will smile at friend and foe alike and make every effort to find, in him or her, a quality to praise, now that I realize the deepest yearning of human nature is the craving to be appreciated."

- Og Mandino, American author (1923-1996)