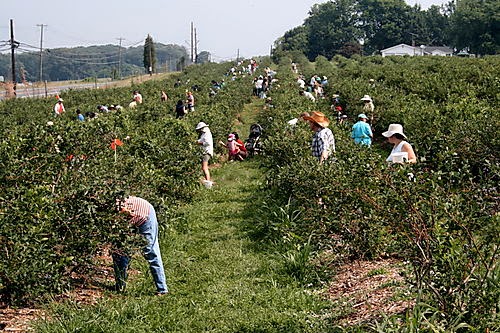 Every summer my husband Lee and I visit a local blueberry farm to pick spray-free berries and stock up with a year's supply. We usually avoid going on Saturday because of the crowd. But on this particular weekend, that was the only day we could go.
Lee and I are serious berry pickers.
We don't talk much to each other during our time in the field. Instead, we focus on finding only the best, ripest berries and filling our buckets.
But apparently, for a lot of folks, picking berries is the preferred way to socialize with family and friends.
Since
we're
not talking, we easily hear the conversations of those in close proximity.
Being the observer of people I am, I can't help but notice the differences in the types of exchanges that take place, especially between adults and the children with them.
And I once again marvel at the opportunities adults have for positive influencing
(or not)
the young people in their charge.
Here are some exchanges that stood out for me…and why. (Note: Ages cited for children are best guesses, not verified).
Most ENDEARING
(Mother and 5-year old Daughter)
Daughter: Mommy, here are some berries I picked. You can put them in your bucket.
Mother: Why thank you, honey. That's very kind of you to share with me.
Daughter: Of course! You're my mommy, and I love you.
My take:
Children don't naturally become sensitive to the needs of others. It takes effort on the part of their parents to help them become less self-centered. This brief exchange, along with other comments they shared, illustrated that this mother has invested time teaching her daughter to be thoughtful and considerate.
Most ANNOYING
(Grandmother with 8 year-old Girl and 10-year old Boy)
Boy: It's getting too hot out here, Grandma. (actual temperature: low 80s)
Girl: Yeah, I'm starting to get all sweaty.
Grandmother: It's not fun when you got hot and sweaty. Would you like to quit now?
My take:
I wanted to jump through the bushes and shake this woman when I heard her reply to these two whiners. It was a beautiful, sunny day – perfect for being outdoors. Instead of encouraging the kids to enjoy their time outside or assuring them that sweat is the body's natural response or any other comment that would have communicated they had no basis for complaining, she
sympathized
with them. Her response did nothing to help these children develop mental and physical toughness.
Most HUMOROUS
(Man at edge of field and Grandfather in middle of field)
Man: Is there a Grandpa King out there somewhere?
Grandfather: Yes, here I am!
Man: Great, I've got your grandson with me. He couldn't find you.
Grandfather: Good luck to you! (everyone in the entire field laughs in unison)
My take:
Later at the barn when we were paying for our berries, we saw the grandfather with his wife and grandson. Their interactions showed that he had probably only been half-joking with his earlier response. He didn't seem to be enjoying his time with the boy. No matter what the grandson said or did, the man had a critical comeback. While I know children can try your patience, you can always find
something
to praise and affirm if you're paying attention.
As adults, we've established closely-held beliefs about who we are and what we're capable of. What we heard about ourselves as children from those whose approval means most to us – such as parents and grandparents – goes a long way to shaping the way we see ourselves.
No matter what role you have in the lives of the young people you interact with, you have the power with your words to enrich or diminish their self-image and the way they view the world.
And come to think of it, you also wield that same influence with everyone you interact with, no matter what their age.
"Treat a child as though he already is the person he's capable of becoming."
- Haim Ginott, child psychologist, 1922-1973)