Sometimes it's hard for me to believe that I've had the same business partners - Denny Coates and Paula Schlauch - for
more than 25 years
.
But it's true.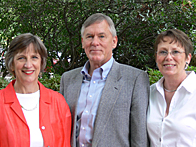 Meredith, Denny, Paula
Back in 1990, Denny and I started collaborating on consulting projects got clients around the topics of leadership development and teambuilding. As we worked together, we realized we had compatible values and goals. Paula joined us as VP of business operations, and we've been a tight team ever since.
But it didn't just happen.
In fact, it seems that the kind of relationship we've built over the years is quite rare.
Recently I was talking with a friend who'd been burned by a new business partner. They'd started their company together, but just as positive momentum was building, the other guy decided to leave. No advance warning. No consideration for the impact his actions would have on my friend.
It got me to thinking how fortunate I am. The trust, mutual respect and love that Denny, Paula and I have developed over the years may not be unique, but it's certainly not typical of business partnerships.
We're each quite different, so we bring our own set of gifts and talents to the table. Over the years, we've come to appreciate and value these individual strengths. But for many, differences in style, approach and personality become sources of irritation…or worse.
It's very easy to get annoyed, frustrated or even angry when the other person not only has a different point of view but openly opposes one of your ideas.
The three of us don't always agree. In fact, we've had some very strong disagreements over the years.
But a key reason we've grown stronger as a team is because we've developed the
communication skills
to talk through those challenging moments.
Sometimes we have to remind each other to use the skills, but that's OK. It's part of the open, honest, direct approach to interacting that's necessary to build relationships that last.
Which communication skills matter most for business partnerships to work?
These five are among the key skills we've applied on a regular basis with each other (as well as with other team members, our clients and our vendors). Denny and I used to teach these skills when we conducted training programs for our clients. We've spent a quarter of a century
mastering
them!
LISTENING
This is at the core of all other communication skills. Yet so few of us do it well. We're eager to tell our own story, share our opinion or repeat a point we've already made.
Effective listening requires us to focus on what the other person is saying or not saying, pay attention to body language and other non-verbals, and make a concerted effort to "get" the message. It's not easy, but it goes a long way towards building trust, commitment and mutual respect.
ENGAGING IN DIALOGUE
Are you willing to keep an open mind so you can understand the other person's perspective? That's what dialogue requires. We want to find out not just
what
they think about a topic or situation, but
why
they hold that opinion. And when both parties feel the freedom to do this, we learn from each other and often expand our own thinking.
GIVING CONSTRUCTIVE FEEDBACK
It's not always easy to be direct with someone about behaviors that are causing you problems. But if you come from a position of caring, open-mindedness, and respect, you're more likely to convey the facts in a non-judgmental manner that opens a conversation.
RECEIVING CONSTRUCTIVE FEEDBACK
And it's natural to get defensive when you hear that
you're
the one who's created issues for others. Remember, it took courage for them to talk to you about your behavior. A calm, open attitude - where you invite them to tell you more - encourages a frank discussion about what's happened and what you can do differently going forward.
RESOLVING CONFLICTS
When you and another person want opposing things – whether at home or at work – a serious conflict can arise. Now is the time to engage listening and creative thinking. Explore what each party wants or needs. Then brainstorm ways you can achieve those needs. Be willing to consider what would represent a "win" for everyone.
Now, these five skills don't appear overnight. Just like a professional athlete, we have to PRACTICE often and have a COACH to encourage us and help us make corrections so we perform the skill better next time.
That's what Denny, Paula and I have done with each other. And it's worked for 25 years. Like a good marriage, we've gotten better with time.
Want to strengthen the important relationships in your business or personal life? And at the same time, support others who want to work on their own communication skills?
Check out this free series of 9 videos and an ebook that show you how.
If you'll apply what you learn in these resources, I can promise that you'll have a better experience when you interact with others.