Even though it's been more than 40 years ago, I can still clearly remember the day my parents dropped me off to start my college career. I had no idea what to expect. They had brought all six of us kids up with a strong moral compass, but I know I wasn't prepared for all the challenges and choices I'd face in that first year and throughout my college life.
I had to feel my way through the process, and I made a lot of mistakes along the way.
A lot.
If only I'd had a manual…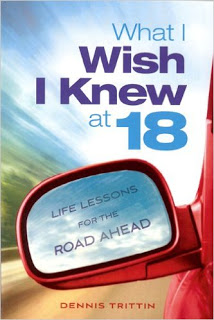 Dennis Trittin
's book,
What I Wish I Knew at 18
, IS that manual. It's the perfect book to prepare young adults for life after high school.
The idea for writing it was inspired by Dennis' experience when it came time to send his own son off to college. He realized there were many things he wanted his son to know, and he made a detailed list, which evolved into the expanded text that became this book. You can feel his heart and hard-earned wisdom on every page.
Dennis takes a holistic approach, covering all aspects of life—developing yourself into a person of character, dedicating yourself to learning in both school and work, building strong interpersonal skills so you're effective with everyone important to you, and investing time to the spiritual dimension.
This is the kind of book you'll want to give as a gift to high school students and graduates alike because it's filled with a powerful combination of principles and practical applications. There's excellent advice on choosing a satisfying career, whether it's right out of high school or after a two- or four-year degree.
Dennis includes specific steps and tips for college students on their own for the first time, such as developing positive study habits and preparing for tests and exams. And there's not a job-seeker in the world who couldn't benefit from Dennis' advice on setting yourself apart during an interview and establishing yourself as a star employee who gets rave performance reviews. These chapters in the book are pure gold!
Dennis understands his audience, recognizing the need for short reflection activities. He's built in "Take Five" exercises, which help readers think about how they can apply the key points at the end of each section.
And throughout, he makes the concepts both memorable and useful through personal stories. This is a book that can positively impact young people's lives…
for the rest of their lives
.
And if you're an adult who works with groups of high school students – such as a teacher or guidance counselor - check out the
Study Guide for What I Wish I Knew at 18
that Dennis wrote with Arlyn Lawrence. It's an excellent companion to the book, with exercises and supplementary material that help students internalize the lessons from the book.