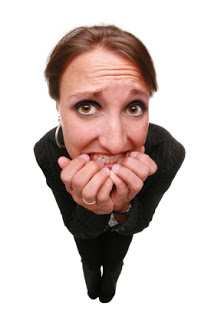 Have you ever have to deal with a situation like this?
Someone – maybe a customer, colleague, friend or family member – said or did something that caused problems for you. And you weren't sure how to handle it - what to say, what to
avoid
saying, whether you should say anything at all…
You're not alone.
Many people are hesitant to give constructive feedback to someone else, for a variety of reasons. Sometimes they're afraid of an angry or defensive reaction. Or they don't want to cause hurt feelings.
Or they hope the person will recognize the problem and eventually correct it without the need to bring up the subject. But that's not what usually happens.
When others make mistakes or disappoint you, it's important to address the issue because these individuals often don't realize they're causing problems for you. They don't see their actions the way you do. This behavior is a blind spot for them, and they're unlikely to change unless you tell them. They can't read your mind, and a heavy sigh or a glare does
not
communicate what you want from them.
If you're like me, you never had a course in high school or college on how to give feedback to someone whose behavior is creating issues for you. And it's unlikely your parents or other adults provided a good role model for this skill when you were growing up, because they weren't taught the right way to do it either.
You already know what
doesn't
feel good when you're on the
receiving
end of criticism. Name-calling. Judgmental statements that label you. Phrases that imply a permanent condition, such as, "You always..." or "You never..."
So what approach can you take that allows you to express your needs and preserves the other person's dignity at the same time?
Over the years, my business partner Denny Coates and I have learned the secret for giving others feedback. We've consolidated all the nuggets into a 10 minute video,
How to Give Constructive Feedback
.
You don't have to opt in to watch it. Just be ready to take notes, because the steps are all laid out for you.
By the way, this is just one of two dozen People Skill videos we've created in our
ProStar Coach
online virtual coaching system. If you're serious about making long-term changes in habits that have been holding you back, this is a program you'll want to check out.