I've always loved great quotations, whether the words were spoken by a famous author, scientist, celebrity, sports figure or historical person. I find that the quotes I like best make me think…about myself and how I want to live my life. They serve as advisor, coach and encourager – a powerful combination.
I'm lucky because my business partner
Denny Coates
has been collecting quotes for many years, so I have a practically unlimited supply of daily inspiration.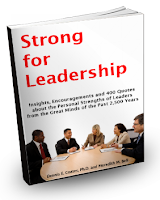 Recently, we decided to put together some of our favorites, accompanied by our own insights and encouragements. The result is
Strong for Leadership
, an 88-page ebook covering 40 areas of personal strength needed when working through others to accomplish important goals. Whether you are a manager, business owner, teacher, salesperson or parent, you have the opportunity to influence others every day.
You'll find 400 quotes covering vital topics like perseverance, focus, self-discipline, integrity, patience and courage. The encouragements, insights and quotes about leadership that you'll find in this treasure will inspire you in your own self-development journey.
I invite you to
get this FREE ebook now
(just enter your name and email in the box on the right) and start benefitting from the wisdom of the ages. Just enter your email address in the box on this page and you'll have instant access to
Strong for Leadership
.
These are just a few of my favorites…
"The compliment that helps us on our way is not the one that is shut up in the mind, but the one that is spoken out." - Mark Twain, American novelist (1835-1910)
"Good judgment, common sense, and reason all fly out the window when emotions kick down your door." - John Wooden, American college basketball coach (1910-2010)

"Whatever you can do or dream you can, begin it; boldness has genius, power and magic in it." - Johann Wolfgang von Goethe, German poet (1749-1832)

"Talent is cheaper than table salt. What separates the talented individual from the successful one is a lot of hard work." - Stephen King, American novelist (1947- )

"The world will belong to passionate, driven leaders—people who not only have an enormous amount of energy but who can energize those whom they lead." - Jack Welch, American business leader (1935- )