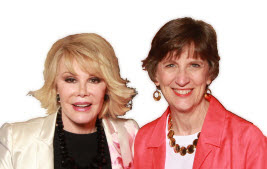 Joan Rivers is far more than a successful comedian. A phenomenal entrepreneur, she overcame extreme adversity to create a multi-faceted company that now exceeds $200 million in sales annually.
I recently had the chance to meet Joan and hear her speak at the Glazer-Kennedy SuperConference in Dallas. Her inspiring presentation included not only her own experiences as a business builder but also insights she's gained from hosting "
How'd You Get So Rich?
" In this reality TV show, Joan simply asks people who've made money in unique ways how they acquired their wealth. [You can watch full episodes
HERE
.]
All these individuals started with nothing but a dream, and Joan described several traits they had in common.
How can you apply these success principles to your own life?
1.
Say YES to every opportunity.
Hesitation, doubt and fear can cause you to miss out on life-transforming breaks.
2.
Have a strong work ethic.
"If you love your work, you shouldn't know it's 5:00."
If you really love what you do, you'll think about it all the time and figure out how to go to the next level.
3.
Have a motto or mantra that drives you.
A few favorites:
"Never look back."
"Use whatever resources you have."
"Yes is the only answer."
4.
Ignore your shortcomings.
No one is perfect. If you believe in yourself, don't let what you
can't
do well deter you. And don't let others discourage you from pursuing your dream.
5.
Never let anyone tell you something is beneath you.
Be willing to do whatever is necessary to achieve your goal.
6.
Keep your sense of humor.
Accept that life is difficult, so make a joke out of the bad times whenever you can.
"100 laughs a day = 10 minutes of rowing."
At 76 years young, Joan Rivers is a role model for lifelong learning. The authentic enthusiasm in her voice as she described the lessons she's learned from her own life and the entrepreneurs she's interviewed was inspiring. And remember...
"Don't follow any advice, no matter how good, until you feel as deeply in your spirit as you think in your mind that the counsel is wise." - Joan Rivers