A few years ago my husband Lee and I were visiting our daughter near Blacksburg, Virginia, where she lived at the time. Alison knows how much we enjoy the world of nature so she suggested that we hike up to McAfee Knob. She had climbed it recently and said the view was breathtaking. Since it was October and the leaves were at their peak, we quickly agreed.
The perfect way to spend a Saturday afternoon with our special daughter and her friend.
Except that she left out the part that the hike was
really
challenging. The climb was steeper and took a lot longer than we'd anticipated. Several times I thought about turning back because my feet started hurting and I was getting winded.
But Alison kept telling us it was "just a little further" so we continued moving ahead. Besides, I wanted to enjoy the view that I knew awaited us.
When we finally arrived at the top, I had Lee take this picture of me next to the sign as proof that we actually made it.
I soon forgot about my aching feet when I surveyed the mountains around us. We stayed for hours just absorbing the spectacular vista.
I sat on a ledge with Alison's friend for a very long time, and later learned that Lee had taken this photo.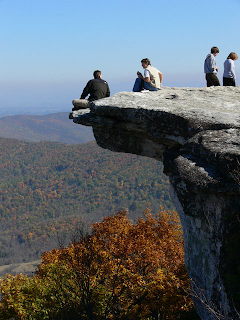 What I learned from this experience:
Any ambitious goal is going to have its rough spots.
There will likely be times when you get tired and feel like giving up. You think you can't go further and you want to quit. But...if you keep visualizing the desired outcome and stay on the path you've chosen, you can experience results that are even greater than you imagined.