One of the most important actions I took in 2009 was re-discovering the work of Maxwell Maltz. His original book,
Psycho-Cybernetics
(1960), became the foundation of much that's been written since about self-image and self-improvement.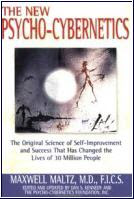 An updated version,
The New Psycho-Cybernetics
, was published in 2001, with new examples, material and editing by one of my marketing mentors, Dan Kennedy. I've underlined and marked up both copies more than any other books I own. There's remarkable life-changing wisdom on every page if you're eager to become all you're capable of.
As we all begin a new year, I'd like to share a few of my favorite quotes from the updated book that may inspire you to action and make 2010 the best year of your life. Remember, you can only achieve that which you truly believe you are worthy of achieving. So expanding your belief in what's possible is critical to your success in every area of your life.
About past mistakes...
"Continually criticizing yourself for past mistakes and errors...tends to perpetuate the very behavior you would change...The minute that we
change our minds
and stop giving power to the past, the past with its mistakes loses its power over us...When you thoroughly accept that you are not your mistakes, you are freed to acknowledge them, learn from them, set them aside, and move on from them without being mired in them."
About changing your self-image...
"Creating a better self-image does not
create
new abilities, talents, powers; it releases and utilizes them...Accept yourself as you are and start from there. Learn to emotionally tolerate imperfection in yourself. It is necessary to intellectually recognize our shortcomings, but disastrous to hate ourselves because of them."
About self-reliance...
"Assume responsibility for your own life and emotional needs...Give yourself your own gold stars...You must be able to admire your own good work and recognize your own acheivements...The refusal to blame ourselves or others or to accept a problem as beyond our influence gives us resiliency in the face of adversity."
About Psycho-Cybernetics...
"The essence of Psycho-Cybernetics is the accurate, calm, and ultimately automatic separation of fact from fiction, fact from opinion, actual circumstance from magnified obstacle, so that our actions and reactions are solidly based on truth, not our own or others' opinions."
If you've read either or both of these books, how has the information impacted your thinking and your life?